Mr. Kottayam Nazeer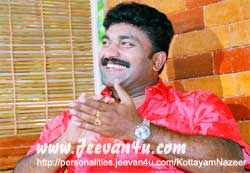 Kottayam Nazeer is a name that every malayalee cherishes in his mind. The king of comedy, Sri. Kottayam Nazeer is a personality with inborn talent of to make others laugh. There is a saying, "It's easy to laugh.. Buts it's the most tedious task to make others laugh". Yes Kottayam Nazeer is truly a blessed artist par excellence...!!!

Kottayam Nazeer, born as the son of P.S. Aziz and C.V. Fathima on 29 January 1973 at Karukachal, Kottayam, Kerala - India started to learn the art of humour from his early childhood days itself. He did his early education and completed KGCE and KGTE (Drawing and Painting).

Mr. Nazeer is now a familiar face in the Malayalam film industry as well. He has played prominent roles in a number of super hit malayalam films. Presently he is engaged in a movie in which Mammootty is playing the lead role.

His family consists of his wife Hazeena Nazeer and two kids :- Muhammad Nihal and Muhammad Naufal. He has one brother, Nazar P.A and one sister, Suniyath P.A.
Kottayam Nazeer has performed in many countries including U.S.A, U.A.E, Canada, Italy, Rome, London, Australia, Germany, Switzerland, Singapore, Qatar, Bahrain, Saudi, Muscat, Kuwait, etc...