Assignments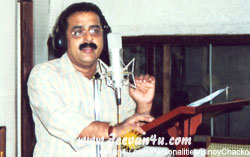 The sluggishness season has not affected Mr.Binoy Chacko in his recording activities and more albums are being produced.

He has got a successful name in the field of commercial advertisements.
His voice is being hired by several advertising agencies in the country.

Celestial Communications is an active division, making advertisement films, documentaries and other video productions under the leadership of Binoy Chacko.