EBY J JOSE
- A Warrior of Nationalism
The struggles of Eby J Jose for upholding the dignity of our national flag have won him several laurels. This 38 year old from Pala in Kottayam district of Kerala has been an active campaigner against the misuse of tricolour since 1997. Eby had corrected hundreds including sports stars and film stars by pointing out their disrespect to national flag.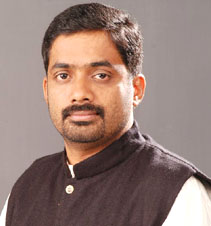 Mr. Eby J Jose


Chairman, Mahatma Gandhi National Foundation

Eby's fights are not confined to national flag and related issues. His moves challenging the award of Padma honours to sports and film stars, stars promoting habits like drinking and the short cut taken by politicians who were failed by the people to reach Rajya Sabha also won appreciation from many quarters. However, he has a special affection towards his fights for saving the honour of the tricolour.

It was a small incident in 1997 that diverted Eby's attention to the need for protecting the honour of national flag. He was travelling in the official vehicle of then Minister A.C. Shanmughadas. When it was evening, the driver of the car furled the national flag that was flying on the bonnet and kept it safe inside. When Eby probed, the driver said it was part of the flag code. That incident drove Eby back to his school days when he had studied lessons on national flag and the flag code. What followed was an intensive study of the flag code and related verdicts from the Supreme Court and High Courts.

It was then that Eby realized how carelessly are people around us handling the national flag. He had seen national flags hoisted at function held at nights. He had also seen someone hoisting a flag upside down. But, the information that all such acts would be powerful enough to land one inside jail was indeed an eye-opener.

His target was set. As we are all aware of the rights promised in the Constitution, we should be aware of our duties as well. He pledged that he would try his level best to correct those who misuse the tricolour and campaign for maintaining the flag code strictly. The first task was identifying the misuse of tricolour. He collected evidences like flags printed on plastics, flags printed with colours in reverse order and photographs of flags being hoisted at nights. A letter with evidences was sent to the High Court. Justice A.R. Lakshman registered a suomoto case based on Eby's letter.
On August 11, 1999, the High Court Bench of Justice K.S. Radhakrishnan rendered a verdict in favour of Eby. The Court reminded all the importance of national symbols and put on records the efforts taken by Eby J Jose to bring the issue to the notice of the High Court.
When the Tamil blockbuster Annyan was released, Eby identified breach of flag code in the posters. The national flag was used for promotion of the film. Eby informed the producer and director and warned them of legal consequences if they refused to change posters. Action came within days. The producer apologized and withdrew posters.
When Formula One racer Narain Karthikeyan chose to print tri-colour on his helmet, Eby registered his protest. He sent a letter to Karthikeyan and asked him to remove tri-colour from the helment. Karthikeyan apologized and stopped using the helmet printed with tri-colour.

When Essilor lenses used tri-colour in its television commercials and CD giant Mose baer brought out a CD `Desam' by using the national flag as its cover, Eby promptly protested. Both the companies had to withdraw those following his insistence. Hundreds of complaints have already been filed by Eby J Jose against the misuse of national flag. He has now sent a letter to Union Home Ministry asking it to remove tri-colour from its website. Eby had raised his voice against Tennis star Sania Mirza, Crickteter Sachin Tendulkar, film stars Mandira Bedi and Shwetha Menon, Model Ramini and Matha Nirmala Devi alleging that they had misused the national flag.

He has also sent a complaint to the BCCI secretary and sports ministry accusing that the name India was printed without prominence in the jersey of Indian cricket team which carries the name of the sponsor in bold letters. When Idea introduced an ad ridiculing Mahatma Gandhi, Eby complained against it. The company withdrew the ad and apologized. He had raised his voice against Nokia when an ad of Nokia had national anthem sung in a demeaning manner. When Shashi Tharoor exhorted to sing national anthem in the American way, Eby complained about the act.

Eby had to fight in court against DC books when the latter refused to withdraw the misleading national flag from the cover of its book Mahabharatha katha. Later, when the same publisher repeated the same mistake in the cover of a book by Shashi Tharoor, it promptly apologized as soon as the mistake was pointed out.

Opposition leader L.K. Advani received a warning from Eby when his election campaign website carried national flag against norms. Shashi Tharoor was also warned by Eby for the same mistake. Rajeev Chandrasekhar MP and Babu M Palissery MLA had to withdraw national flags from their website following Eby's intervention. Eby had taken up cudgels against National Minority Commission, Kerala Lok Ayukta and Limca Book of Records for protecting the dignity of our national symbols.

The Malayalam film Twenty 20, produced by the Association of Malayalam Movie Artistes, carried a scene ridiculing Mahatma Gandhi and freedom movement. Based on Eby's complaint, the scene was censored from the movie. When the scene was repeated in the CD, Eby complained to Moser baer. The company withdrew CDs and brought out new ones with censored version.

Eby has launched a website www.ebyjjose.com to campaign against the misuse of national sympols. He is planning to launch a campaign against the misuse of Ashoka Chakra and national flag in cinemas and serials.
A new initiative from Eby, called Mission Flag, aims to create awareness among school children about the need for respecting national flag and national anthem. In five years, he plans to reach 10,000 schools with this message. A Respect National Flag campaign to create awareness among public about the need to respect national flag in also in the pipeline. He plans to launch awarenss campaigns across the country for this purpose.
A set of suggestions including making national anthem compulsory in all government functions and including lessons on national anthem and flag in school curriculum has been submitted by Eby J Jose to the Union Government.
The fights of Eby are not confined to national anthem and national song only. It was Eby who petitioned the High Court against the inertness of policemen who had silently watched a murder in Padmatheertha pond in Thiruvananthapuram. The Court ordered to give a compensation of Rs. One lakh to the victim based on Eby's complaint.
Eby campaigned against film star Mohanlal endorsing a liquor brand. The ads of the liquor brand were removed from KSRTC buses following Eby's complaint. The government later refused to renew the license of this liquor brand. This incident was reported with prominence in international media including BBC and CNN. Eby has now petitioned the President against conferring Mohanlal with the Lieutenant Colonel title.
Eby has been doing journalism for a living. After working in several media organizations, Eby J Jose now edits Gulf Life magazine. He is part of a number of social organizations including Deseeya Aikyavedi, Catholic Youth Council of India, Rajiv Gandhi Peace Foundation, Cheriyan J Kappan foundation, anti narcotic movement, Cheukida Karshaka Federation and Human Rights International. Besides, he is the chairman of Mahatma Gandhi National Foundation.
Eby had a close relation with former President K.R. Narayanan. He is the author of the book K.R. Narayanan Oru Soorya Thejas. The book is being translated into English and Hindi. He is presently working on a documentary THE FOOTPRINTS OF SURVIVAL on the life and work of K.R. Narayanan.
Eby is the son of Moolayilthottathil Baby Joseph and Ammini. Baby Joseph had worked with the Indian Airforce. His wife Sindhu is working with the Local Self Government department. He has three children, Liya Maria, Diya Ann and Niya Elizabeth.
back to top